Name change aside, I believe Heavy Montreal will rock this year!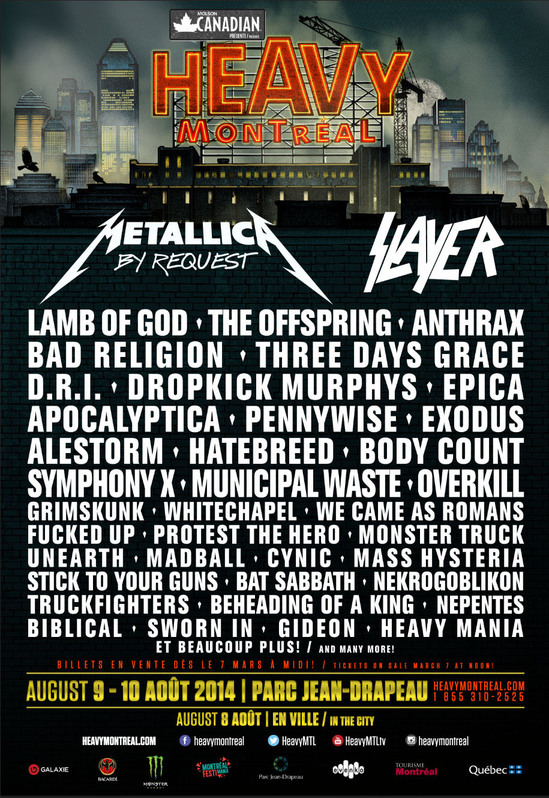 After much wait, Evenko has finally released the schedule for Heavy Montreal. They are doing the release after Rock Fest released it's band list with much disapoint to fans. But Rock Fest has to repair the damage done last summer with bad management while Heavy Montreal had to please their fans with a heavier lineup than the one from which had Avenged Sevenfold as the headliner for one of the nights. I'm not saying Avenged Sevenfold is not good, but it's nowhere as metal as Metallica or Slayer.

This year's Heavy Montreal will have parents and teens. Fans from the early days whom are now in their 40s and 50s and the newer fans who are just entering adulthood. Metallica and Slayer are bands with street cred. They attract fans and sell tickets. Of course, some people say that Slayer is not the same with Dave Lombardo on drums, but I say to hell with that controversy. I saw Slayer at the CEPSUM last fall and Paul Bostaph having replaced Lombardo in the past does an awesome job. And Gary Holt seems to have taken his place after Jeff Hanneman's passing.
Metallica is doing "Metallica by Request" which means the show's songs are selected from the fans requests. *edited* Metallica's set includes 18 songs, 17 of which got the most requests from fans who voted online. To be able to cast your vote for the song you would most like to have on the setlist, make sure to request your special code when purchasing your ticket. You may be wondering about the 18th song? Well, from what I've read online, it's going to be a brand new song, so check YouTube and you might be able to hear it before the show since it'll be performed on the Eureopean tour.
Some people might be disappointed about not having more glam rock bands like there were in the past. But Kiss and Motley Crue didn't belong in a heavy metal festival. Also, a lot of people have complained that Heavy Montreal does not have the "Big 4", but darn it, it's the closest it's ever been. And to have the "Big 4" (Metallica, Slayer, Anthrax are three of the "Big 4"), the band list would need to include Megadeth, and after being part of the festival in 2013 and 2010, we should welcome the band list as is! Some metal fans are also complaining about the punk bands on the list, but I believe both musical styles belong together, if not as unhappy neighbours, maybe as drinking partners.
Weekend passes go on sale this Friday. They will sell at $165 pre-tax and the number is limited, hey Evenko wants to make sure they sell enough. You could also splurge $400 plus taxes for a "prefered seating" on a terasse which is new this year, see image below, as well as "exclusive toilets". If you plan on taking your 10 year-old cousin, note that kids under the age of 10 can go in for free with a paying adult.
For more information, visit http://heavymontreal.com/