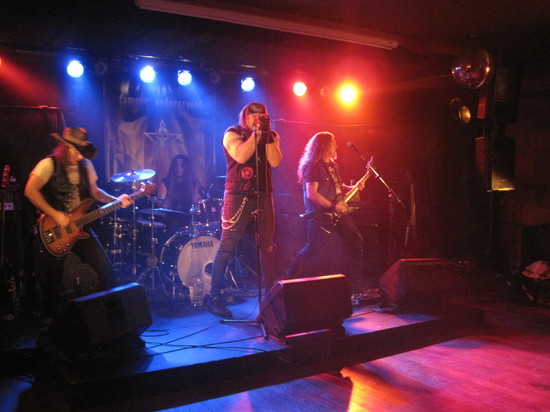 The members of Sleazy Way Out were kind enough to allow me to interview them during one of their rehearsal session. I got to sit in on part of their rehearsal time, enjoy their music, ask them a few questions and find out more about the band and the individuals who make up the band.
The band consists of: Stacey Sleaze on lead vocals, Cleve Hartwick on guitar and backing vocals, Dany Cardinal on drums and backing vocals and J-F Daigle on bass.
ML: You describe your style as sleaze metal, which bands would you say influence you?
SWO: Cinderella, Hardcore Superstar, Britney Fox, Motley Crue,  Dangerous Toys, L.A. Guns, Reckless Love
ML: Which band do you despise most in metal? No, NickelBack does not fit into this category!
That got the whole band laughing and they had to think about that one. 
Dany: I don't like Death, Gore, M-Core stuff like that, 
J-F: Speed metal, I hate speed metal. 
Cleve: Dillinger Escape Plan it's not our thing. Jazz metal and that kind of music is not for us either. 
Dany: Limp Bizkit as a band they don't like, but they argue it's not metal. 
SWO: We hate Korn, Linkin Park and Limp Bizkit, but those bands should not be considered metal.
ML: How long have you been playing music?
Dany: 10 or 12 years
Stacey: almost 20 years
J-F: Over 20 years, born in music
Cleve: 22 years
ML: How did you meet the band members?
SWO: Dany, met the band members via the internet and auditioned. J-F and Stacey already knew each other having played together in another band which split up, Stacey met Cleve at a show and they discovered that they shared musical tastes.
ML: How often do you practice?
SWO: Usually we practice twice a week, but sometimes only once.
ML: Who is the biggest band you opened for?
SWO: L.A. Guns and Crash Diet are two of the biggest bands they opened for, but they agree that L.A. Guns is a bigger band.
ML: If you could play with any band, which band would it be?
SWO: Hardcore Superstar, followed by Motley Crue, but also Kiss and Reckless Love.
ML: How many gigs have you played so far and how often to play live shows?
SWO: In this lineup, since March, it's at least once a month, so about 10 or 11 gigs.
ML: How many other bands have bands have you been in before being in Sleazy Way Out?
SWO: J-F has been in too many bands, Cleve has been in at least 8 or 9 bands. They've been doing it for a long time.
ML: You already have a single on a compilation album; have been approached by a record producer to do an album with just your band?
Cleve: Yeah, the promoter for our upcoming gig of Friday November 29, was at our last gig of October 26, with Diemonds, he approached all of us and told us that we needed to go into the studio and record an album now. We would have an album, but we don't have the funds for it. So what we will be doing is raising funds by playing shows and some other means and get into the studio in early spring late winter.
ML: Regarding the song you recorded, have you sold many and does iTunes pay decently?
Cleve: We have sold a few singles, but it does not pay well. We only get a few cents per song sold.
ML: Have you considered about fundraising on the internet?
Cleve: Absolutely, Kickstarter and that sort of thing. Graph funding is actually our next step.
ML: Who writes the songs?
J-F: Usually Cleve and Stacey.
Cleve: I usually handle most of the music and then I'll pass it on to Stacey. I'll demo it with my recording software at home. I'll put it in rough format of verse-chorus-bridge-chorus-solo-whatever. I'll send to Stacey and he'll put a melody on it. We'll bring it here, we'll jam it, and we'll work it through. Then we'll put some words on it and voila!
ML: Where do you get your inspiration from when writing the songs?
Cleve: The inspiration comes from various sources. Girls, partying, love, booze. The songs usually come together pretty quickly once we have the basic structure ironed out. Sometimes in one jam, sometimes it takes two.
ML: Do you know any drummer jokes?
SWO: J-F The drummer sucks. It's not a musician. It's the guy who hangs out with the musicians.
Rapid fire questions
ML: Best show you've ever been to?
SWO: Saxon at Foufs (Foufounes Electriques), Motley Crue, Kiss, Ramstein, Iron Maiden (PowerSlave)
ML: Most disappointing show you ever saw?
Cleve: Iced Earth in London, Ontario, I had to leave it was so (bleepin') bad
J-F: Heavy Montreal every year
Dany: RockFest in Montebello, summer 2013
ML. Musician you would want to have a beer with, alive or dead?
SWO: Paul Stanley, the guys from Sleazy Way Out
ML: First album you ever bought?
J-F: I bought three the same day, Shout at the Devil by Motley Crue, Speak of the Devil by Ozzy Osbourne, and Iron Maiden's The Number of the Beast.
Stacey: BonJovi, Slippery When Wet.
Cleve: The first album was probably from Saxon, Crusader
Dany: The Mick Jagger and David Bowie single, Dancing in the Street
ML: Last album you bought? It had enough good songs that you would buy the whole album.
Stacey: Death Angel, The Dream Calls for Blood (2013)
Cleve: Crucified Barbara, The Midnight Chase  
J-F: Black Label Society, Unblackened
Dany: Napalm Death, Harmony Corruption
ML: The last and the first show you ever saw?
Stacey: My first show was Bon Jovi, the last show was Death Angel a few weeks ago.
J-F: I was pretty young at the first show, when I lived in Ste-Marie-de-Beauce, it was tribute to Rush and it was a big set-up with pyros and lights. It was amazing and I was nine years old and that's when I discovered that's what I wanted to do with my life. The last show was the one I played in, there were other groups to see, not just Sleazy Way Out, Diemondz.
Cleve: The first show was Metallica with Queensryche on the And Justice for All tour. The last one was Diemondz. Before that it was Saxon.
Dany: The last show was Bon Jovi. The first show, I was too young, I can't remember.
ML: What are your thoughts on Arcade Fire?
SWO: Sucks big time! J-F: It's a good band, but not for me.
ML: With this band, have you ever had any rivalry with other bands?
J-F: There are three bands in Montreal playing basically the same styles, Rusted, Easy Aces, and Sleazy Way Out. You always want to perform better than the other bands, but at the end of the night, you shake their hands and that's it, they're friends and you have a beer together.
Cleve: There is no rivalry because we get along with all the other bands that are in the same genre as us.
ML: How difficult is it to get gigs?
SWO: For us, it's pretty easy. It also depends what you consider a gig.
Cleve: Getting a gig here is easy; getting paid is not so easy.
ML: Do you get paid to play or have you ever had to pay to play
J-F: We've never played anywhere we had to put our money on the table.
Cleve: We do a lot of work with Dungeon Works Productions here in Montreal and we get treated very well by them, they give us a guarantee every time that we play and they give us a cut of any tickets that we sell. So, regardless of how many people are there, we do make money playing. The more tickets that we sell, the more money that we make on the guarantee.
Dany: They (Dungeon Works Productions) have a good name
ML: What is your musical goal?
JF: (laughing) Getting rich? No, it's not even that, I don't care about being rich, it's about the music. Having fun, being in the band and feeling that it's heading somewhere. Knowing that you are in a band with guys who want the same thing as you. It's not important to make money at every show, what's important is having fun doing it.
Stacey: Make a living out of it.
JF: It would be cool, but it's a dream.
Stacey: It's a dream.
Dany: To play Club Soda and play sold-out shows on tour.
ML: Have you ever had any instrument stolen?
Cleve: I had a guitar stolen when I was in a Pantera tribute. We played in Niagara Falls and the singer was supposed to watch the truck full of gear, but instead he was off distracted by some girls and left the truck unattended while someone walked to the truck and lifted one of my guitars. I didn't notice it right away because the truck was so full of gear. The guy most likely picked up the first thing he saw and that was my guitar. And I'm still pissed about that.
Dany: Somebody stole my wallet in the studio a few weeks ago.
ML: Do you sell merchandise at your shows?
J-F: Yes and we will have more and more. It's our goal to have a lot of things to share with the fans.
ML: Anything else you want to plug in???
Stacey: Our next show. November 29 at Petit Medley.
Cleve: Famous Underground, Rusted, Sleazy Way Out. We go on first, so be there early. Buy our t-shirts, buy our posters, our guitar picks, pins...