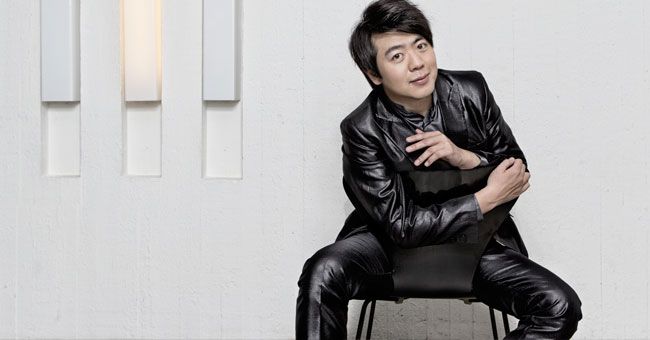 Lang Lang was in town last week. On Friday March 13th, I headed to Place des Arts to attend Lang Lang's recital. Having had the opportunity to see him three years ago, I was eager to witness once again his world-renowned piano skills. In a day and age where pop music is put in the spotlight, it is pleasant to find oneself immersed in sounds that have transcended time and carved their place in the history of music. The modern edge of this recital has to do with the performer who by his twenties was already being praised as one of the best contemporary pianists in the world.
Lang Lang, now 32 years old, has been playing piano since the age of 3. As a teenager, his performances were selling out worldwide, city after city. He has been continuously praised for his mastery of the piano and faultless renditions. Put in the limelight for his musical talent, he gained popularity by performing along other artists and also playing for important events, such as the opening ceremonies of the Beijing Olympics. His social involvement has expanded outside music halls. He has been involved with the United Nations as messenger of peace, and in 2008, he started the Lang Lang International Music Foundation. His organization creates outreach programs to connect to young audiences, with the goal of inspiring future generations of musicians. He has infused a breath of fresh air in the classical music scene by sharing his talent with the world and motivating others to do the same. Montreal, known for its musical diversity by being the home of great music festivals such as the Jazz Festival and Mutek, gave him a warm welcome with a week of sold out concerts. Lang Lang performed with the OSM for three consecutive evenings and gave a Shulich Masterclass at McGill, which also sold out. His recital was the pièce de résistance of his passage in Montreal, as he performed unaccompanied to a full house.
The eagerness of the crowd was palpable as spectators took seat in the beautiful Montreal Symphony House, an architectural feat inaugurated in 2011, which has a capacity of 1,900 seats. The room, specifically built as a music hall, is suspended to avoid the ground from affecting the clarity of the sound, and the Quebec birch wood interior finishing was specifically chosen for its capacity to minimize echo and maximize the natural auditory resonance. An ideal venue for one of the world's greatest pianists. Lang Lang's recital consisted of Bach's Italian Concerto, BWV 971, Tchaikovski's The Seasons, OP. 37bis, as well as Chopin's four scherzos. Classic pieces seasoned listeners are familiar with... but the crowd was not here just to listen to music, they were here to witness Lang Lang.
The pianist indeed brings his own personal touch to his renditions. He is a fascinating character and his personality and individuality shines through his performances. It is mesmerizing to see his facial expressions as he feels the music. I catch myself wondering what the pieces evoke to him, since he is so well acquainted with them. He seems to sense the music, completely enthralled, and shows it like none other. It is yet another way spectators see how he truly is the human extension of his piano.
Listening to classical music is, for me, comparable to a meditation. One's mind drifts, and must constantly be brought back to the present moment. Thoughts invariably arise, taking us away from the performance and into our individual, private realms of consciousness. Closing one's eyes, the music transports us. Hearing sound coming from a real instrument, and not a recording or prefabricated synthetic tones, is a powerful experience. It is something everyone should be familiar with. It is a shame today's youth isn't exposed to it as easily as they are to pop music.
Eyes shut, one can let the musical flow take over. As captivating as the renditions were, I thought it would have been smart to put a carpet at Lang Lang's feet to diminish the impact of the sound his heels make as he frantically keeps the beat. Such extravagance is unnecessary and rather bothersome, in my opinion, since it hinders the piano's melody, which needs no percussion complement. And speaking of unneeded noise... Unfortunately, it is germ season, and many spectators did not have the grace to use cough drops or subtly clear one's throat in handkerchiefs, creating recurrent auditory interjections that made other listeners well aware they were in a room filled with almost 2000 people. Closing one's eyes and retreating to one's inner world, allowed a greater focus on the melodic talent being shared, but a public concert, remains, a public concert.
Standing ovations were given in between pieces numerous times. More established or reserved members of the audience were growling, trying to shush overly enthusiastic clappers in between segments of Tchaikovski's Seasons. Personally, I couldn't blame the fans. The performance was breathtaking and drew tears to my eyes more times than I care to admit. Applause was the crowd's way of sharing its appreciation as it felt it fit.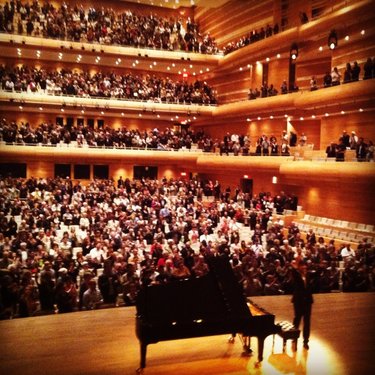 Lang Lang in the Montreal Symphony House in 2012

And appreciate, the crowd did. The ceaseless applause and acclamations led to not one but two encores. Lang Lang is known to be generous with them. The final piece, an extremely fast paced but precisely executed rendition of Chopin's Minute Waltz Op. 64 No. 1 made the room erupt in chuckles as he graced his audience with a last interpretation that really highlighted the personal touch be brings to stage. The applause was relentless, praising the innovative touch Lang Lang conveys to classical music.
More conservative music lovers grunt and hiss at Lang Lang's overt personality and individualistic touches, but I believe performers such as himself are giving a new life to classical music, helping it keep up with other music styles. It is a touch of fun and youth, to see individuality shine through pieces that are hundreds of years old. It is a beautiful way to keep the art alive. Lang Lang is but one of a series of contemporary musicians who bring their personal touch to a traditional art. I think here of the talented Yuja Wang, with her platform-heels and mini-dresses as she performs pieces that transgress the passing of time. I also think of Nigel Kennedy, famed violinist, with his Mohawk style haircut and unconventional attire.
Some believe individuality does not have its place in music halls. If many find Lang Lang to butcher classical pieces, it is mostly because their conservative edge prevents them from indulging the interpretation he brings. He is not everyone's cup of tea. However, I think seeing performers' individuality is what is needed to attract younger generations, for them to understand and appreciate classical music. I could see by the average age group of this recital that the twenty to thirty group was a feeble minority, and teenagers were practically absent. Classical music should be a part of everyone's education. Lang Lang's International Music Foundation, for example, is a way young, talented musicians are drawn to interpret complicated and timeless pieces of classical repertoires. By being inspired by celebrities of the music world, by getting a feel for the special touches individuals bring to timeless pieces, younger generations adopt a liking to classical music. There is a reason why these pieces have survived the passage of time. In our contemporary age, it should be our priority to celebrate those who can honor classical music by sharing their talent.