Amenisia RockFest has finally announced its lineup for 2014 after selling-out of early-bird week-end passes two days before the announcement was based.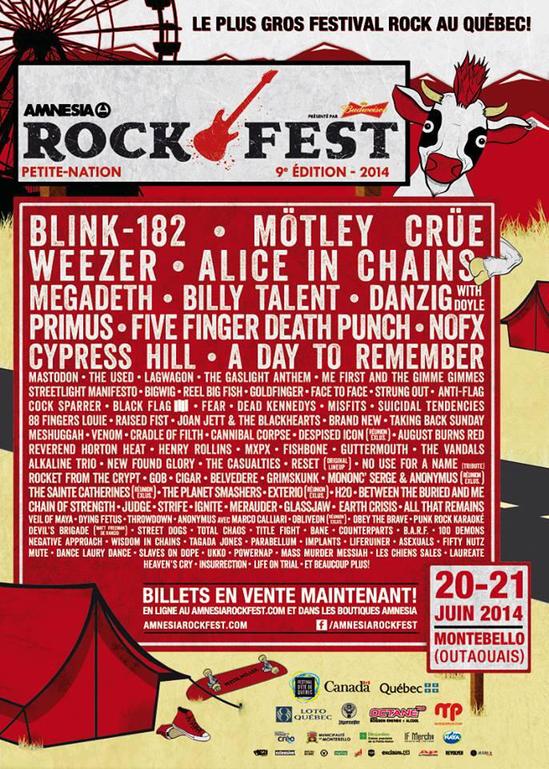 Last year's RockFest got a lot of negative publicity, but this doesn't seem to phase-out true metal fans. It might help that this year, Amnesia RockFest has teamed up with le Festival d'été de Québec and their sister company 3E-evenement to manage the logistical aspect of the RockFest. This proves that bigger organisations believe that Alex Martel who created the RockFest 9 years ago at only 17 years of age has some room to learn and perfect the event. PMiron Consultants (http://pmiron.com/projects/) is another firm with big event experience that will be assisting in the success of this year's RockFest.
Why will I not be going to RockFest? The location of this event is truly the only reason I would not go. In all honesty, I would not want to be camping  in mud and sleeping less than 2 feet from my unknown neighbour. As for the hotels, Amenia RockFest claims that they are sold out a year before the event (I haven't called any hotel to confirm this information).
For those willing to get down and dirty, to wait in line to use a port-o-potty, I say have a blast! Buy your week-end pass now as they will sell-out quickly and are a steel at only $99. But I will also will you luck in finding a place to pitch your tent and park your car! You could even go by boat, but reserve your spot at the marina.