Tricia at the Landmark Showcase Event
"Do what makes you happy. Everytime you make a decision, think if it's going to make you happy in the long run."
In the cozy back room of Le Cagibi café, located in St-Laurent, fans, friends, and family gathered to hear local talent while supporting Jam for Justice. Jam for Justice is a showcase for local talent, where the ticket proceeds go to fund charities. Tricia Fitz, an aspiring Montreal artist graciously agreed to meet me before her set, to chat about music and life.
Tricia Fitz has been to school in three different countries (Brazil, United States and Canada) and is pursuing a Bachelor in Education at McGill University. She used to work as a vocal instructor and spends her free time with her fiancé and two cats.
This past summer Tricia Fitz made it to the final round in the Landmark Showcase Event, where she played for record labels such as Sony and Warner, at Club Soda. She's also played for the Nuit d'Afrique Festival and has collaborated with other musicians in Montréal. Her voice is accompanied by a guitar and bass duo. The bass is played by her fiancé Francois Dumouchel.
At the Jam For Justice Showcase she captivated the audience with her stage charisma; hypnotizing her audience with her dancing and folk voice. Her songs tackle dark themes but have an uplifting message.
---
The past:
What are your fondest musical memories?
In 2008, I was part of a band while living in Brazil. At one of our shows I did a stage dive. It was really memorable and is probably the last time I will ever do a stage dive. I'm glad they caught me.
Is there a particular song or musical passage that never fails to move you emotionally?
Florence and the Machine- Shake it out. When I'm not feeling very confident and questioning life in general, it always helps me get back on my feet again. It helps to balance me out.
How has your background influenced your music style?
Brazillian music doesn't influence me style wise. However, I do go for a similar vibe, like the charisma, happ, and festive feelings; that is what I want to give off on stage.
Music and creativity:
Which famous musicians do you admire? Why? What is your favourite album?
Devin Townsend, he is god, even though his genre is metal and not like my own. I really admire him since he does everything himself. It's his expression on stage that I'm highly influenced by. He has a very intense look and is really into his music. I want to be like that, performance wise. My favourite album of all time is his album Addicted.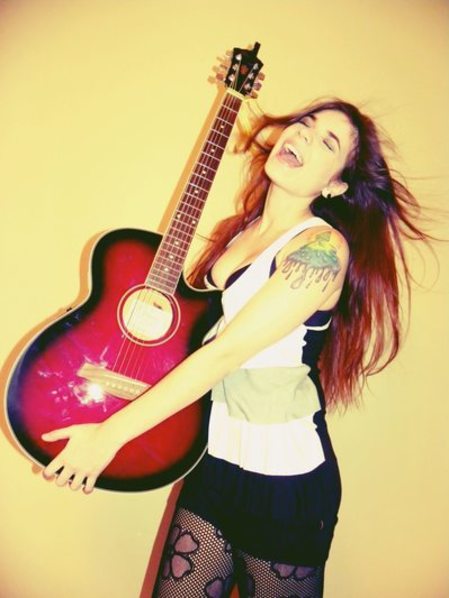 What is your creative process?
When it was just me, I would come up with a melody first. I would have drafts and recordings of me humming on my phone. That's how the songs would get born. Then the lyrics would come and I will polish them for about 5 months before I perform the songs.
Recently, Francois has joined me on stage and sometimes comes up with a bass line to a new song first. Then we would create something on top of it. The process is a lot more dynamic now, which I like since I can't imagine some of the songs without the bass.
If you hadn't been born in this century, when and where would you have like to have lived and why?
The future, like 2092, so that we can be passed this twerking age and cats will finally rule the internet. I love virtual realities, so if I could live in one, that would be awesome.
Performance and life:
What are some of your pre-performance rituals?
I'm sorry if people think this makes me sound crazy, because I actually have a super intense ritual that I follow religiously.
My basic rules: no chocolate, dairy, or nuts - anything that creates mucous.
I have tea or rather a hot water ritual, where I chug four cups of boiling hot water and then have nothing to eat or drink four hours prior to the show. My throat is so dry right now, because I don't feel like I can sing without a dry throat. Maybe the difference is only apparent to me, but it's there.
Which language do you prefer to write or perform in?
English, because it's the language I'm most comfortable in. But I like to throw in one Portuguese song in every show. The cover I usually perform is by a joke band in Brazil. It's my inside joke with any other Brazilians in the crowd. Usually, it's just a little joke for myself.
How do you handle mistakes during a performance?
I make it really obvious that I've messed up, which I have been criticized about. People usually say, "to just let the show go on," but I feel guilty if I don't address it. So you will see it on my face when I make a mistake. I make it apparent to put it in perceptive, that I am aware of the mistake I just made.
What do you do to relax?
Video games, currently I'm playing Animal Crossing, I have two towns, so I just visit myself and it helps me de-stress. I also play The Sims, my childhood friend.
Do you have any hidden talents?
I'm a surprisingly good bowler. I do trick shots, like doing a somersault, throwing the ball and getting a spare. I didn't even need any practicing. I'm just Lucky. I must have done something really great in my past life, to have the luck that I do. I have really good karma and I feel that a lot of my talents are based off of luck.
What's the best advice you have ever received?
The best advice I've ever gotten was from my father -one my heroes- he's always told me to do what makes you happy. So if you're doing something that isn't making you happy or will make you miserable later, just nip it in the bud. It's always in the back of my mind, and if I don't want to do something, I don't. Which is a piece of advice I've carried with me since I've been a little girl and that makes me happy and proud of what I'm doing.
However, very recently with adulthood, paying rent, bills and grocery it's hard to go back to doing what makes me happy. I have been working on gettin back to that point.
Also stay humble, always be humble, which is something that I'm working on too.
Le Cagibi Performance
Future:
You have been hinting at an album release on your social media. When can we expect it?
The main issue I'm having right now is money. I released the first single "Dance with me," last September. However, I keep changing my mind when I'm thinking about the album, which has delayed its production. I've been thinking about starting a funding campaign, like a Kickstarter. I'm just waiting for the right opportunity to do so, since some songs and other things need maturing.
I'm taking my time, which is good and bad. Bad, because people are waiting and expecting something and good since the album will be more polished and something that I can be proud of.
What influenced the album?
I love the idea of creating an ensemble of my works and setting a theme. This is my first album as a solo artist and I want to present dark themes in a light-hearted way. I believe that there are different ways to explore the darker corners of society and I want to present those dark themes as if they came out of a cartoon. Not in an oversimplified or naive way; more like in a fun and silly way. I want people to trigger their inner weirdo while at the same time make weirdoes feel like everybody else.
And finally:
Have you faced and conquered any challenges in your life that you would be willing to share with your fans?
I'm the kind of person who will say something and realize that it sounded much better in my head. I am aware of this and I have learned to be more careful, but I still face this challenge constantly. As an entertainer, I have to communicate with people so this makes it more difficult for me. I find it easier to express myself through lyrics than actual sentences. Sometimes I like to imagine how quirky I would be as a politician. Mandatory musicals for all!
How does it feel to have a crowd at your feet worshiping you? What is it like having fans?
I'm not aware of this. I want to know where the crowd of people that worships me is. Now that you mention it, it would be cool.
What I'm really going for, as an artist is more like a cult following, like the one for Arrested Development or Firefly. They have a small and really dedicate, loyal fan base, which is what I want.
I remember playing at Club Soda, and after the show, a girl came up to me and asked for a picture, and I swear I was more excited than she was. I'm not used to that, I'll probably be more excited to see people excited about me than they are to see me.
So please don't be shy to come up and say hi :)
You can follow Tricia Fitz on facebook, Twitter, Bandcamp, itunes, and Souncloud to find out more and listen to her music.