Being one of the largest cultural hot spots in Canada, Montreal is an important stop for most major bands that tour across North America. That being said, there are a variety of incredible venues to choose from for any band visiting this vibrant city. From rock to hip-hop to metal and everything in between, there is a venue in Montreal to suit any musician's needs. In this list I'll break down my top five venues to catch your favorite rock band rip it up.


5. The Bell Center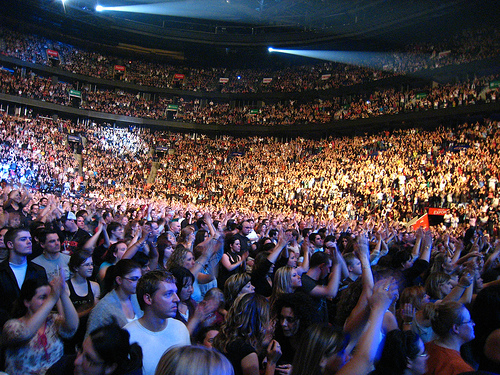 Formerly known as The Molson Center until its name change in 2002, The Bell Center is probably best known for being home to one of the most successful hockey franchises in the NHL, the Montreal Canadiens. Built in 1996, it replaces the world famous Montreal Forum as not only the hockey club's home rink, but also the largest indoor concert venue on the island. The Bell Center can be configured in multiple ways depending on the show, from an intimate hemi-cycle seating between 2,000 and 3,500 to a full capacity layout seating up to 15,000. Most rock shows will be configured with the latter layout and may include standing floor space, yet increasing the number of possible spectators.


This immense capacity may also be the Bell Center's greatest vice. It's clear that the venue was built with the primary function of housing sporting events as its cavernous rafters don't provide the best acoustics. Sound quality may vary between decent and pretty terrible depending on where you're seated. Witnessing a concert from the front row can be an impressive sight, but don't expect a comparable listening experience. The same goes for anyone who gets stuck with seats along the side of the stage. Most bands have to pump out their music at eardrum popping levels in order to fill the arena. At this intense volume many bands end up sounding somewhat distorted and unclear.


All this aside, you can firmly bet that if the band you're going to see is capable of attracting such a large crowd, enough money and technology has probably gone into making one heck of a show. It isn't an intimate experience by any means, but something magical does happen when so many people gather in one place to appreciate a band's music. There are few things more emotionally invigorating than witnessing a crowd of 20,000 fans singing their favorite song in unison. For a pure sense of grandeur and crowd atmosphere, the Bell Center is my 5th pick.

4. Club Soda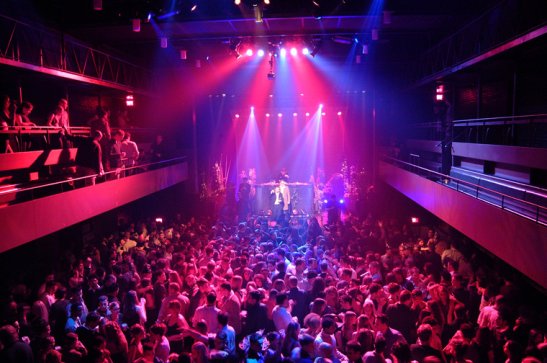 What Club Soda lacks in size, it makes up for with heart. Located smack in the middle of Montreal's "quartier des spectacles," this venue (which can accommodate just shy of 1000 people) is usually quite full no matter who is playing.

Known as a place where many famous bands played their first shows in Montreal (Club Soda's website lists such acts as The Tragically Hip, Oasis and Soundgarden), it isn't a place where you will typically see huge acts play. However, if one of your favorite artists does happen to book a show there, you can guarantee that it will be a good one.

One of my best concert experiences was seeing Raine Maida (of Canadian band Our Lady Peace) play there in promotion of his solo record. I was standing at the foot of the stage, literally feet away from him, without the usual intrusion of some sort of barrier patrolled by security guards that you often find at concerts of the sort. Not only was my proximity to the performers amazing, but so was the sound, even in my less-than-ideal listening position. If you find yourself farther away from the stage, then you will benefit from great sound quality. With the venue's fairly small dimensions and streamlined (some might say boxy) interior there isn't much place for the music to go before it gets to your ears.

Viewing the show from the rather flat floor can be difficult for those of us who are vertically challenged, but if you don't mind being slightly farther away, you might try to find a place on the balcony where you won't have any trouble seeing the show.

Due to its limited size, you're unlikely to find huge international acts visiting this venue, but if you do happen to watch a show here, you will probably find a great deal more intimacy than in many of the city's larger venues
http://www.clubsoda.ca/en/index.php
3. Le National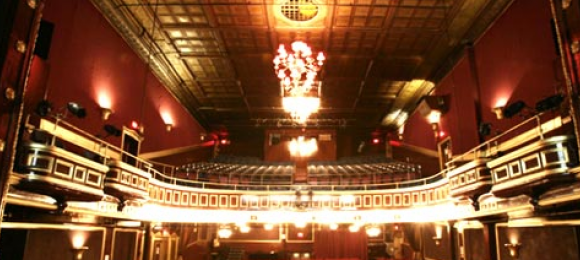 Far less modern, but with much more history behind it, Le National and sister venue La Tulipe, represent a totally different side of the Montreal music scene. Originally open in 1900, Le National has been a highly trafficked spot for francophone artists in the city. One only has to take one look at the walls and floor to know that this venue acts as a time capsule, preserving a little bit of the city as it was over a century ago.

Having been both a spectator and a performer at both Le National and Club Soda I can say that there is a distinctly different feeling between the two of them. Despite having similar capacities, Le National Feels larger and more open. Visually it gives up any attempt at modernity for a warm, rustic look. With a rather steeply curved floor and upper balcony, seeing the stage isn't a problem from anywhere in the venue.

In terms of the entertainment available at Le National, its schedule is generally dominated by francophone acts, but hey, what better way is there to get a taste of Montreal culture than to embrace its French music scene? You will also find many music events celebrating a particular era or style which is worth checking out in its own right. Regardless of your taste in music, Le National is an active venue where something is happening almost every night. If anything, it's a beautiful place to go and see something unexpected and take in a little bit of the city's history at the same time.
2. The Olympia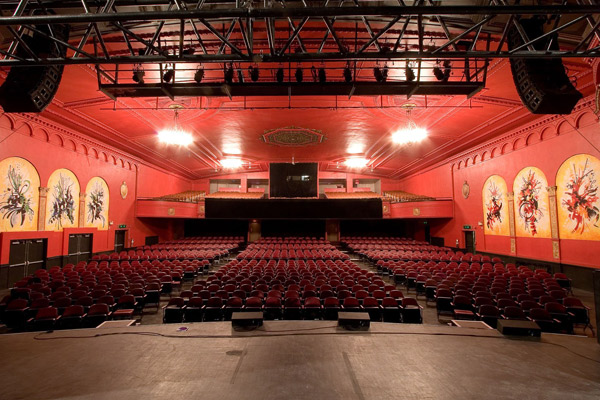 If Le National represents a bit of history, then the Olympia represents a lot of it. At more than double the size, this theatre is made for larger events. While sharing some of the characteristics of its smaller cousins, the Olympia takes things to a grander scale.

Built in 1925 for "cinematic theatre," this unique venue has lasted the test of time and remains a real treasure in the music scene. From the red walls to the old fashioned moldings on the ceiling; it retains a distinct look not shared by any other venue in the city.

The Olympia is large enough to accommodate popular touring bands while still maintaining a certain sense of closeness and intimacy. Many serious international acts (including many hard and alternative rock bands) have chosen to play at the Olympia when they stop in Montreal, even though they could easily fill up a larger venue. Why could this be? Simply because when you play or watch a show at this venue, it gives you a sense that you're part of something even greater, part of the history of this city. It's a feeling that you won't find in many other music venues.

Whether the theater is configured with seats in place, or standing room on the floor, it's easy to see the show and you feel relatively close no matter where you are. The balcony is a slight exception. It's nice, but it doesn't wrap around the venue like most modern ones, so if you are sitting up there you may feel a little bit removed from the event.

If you do find yourself seated up there, don't worry because you will still have a clear video of the ample stage and you'll also get the best of the sound that the venue has to offer. For infusing a sense of history with the contemporary ability to accommodate modern rock bands and put on some unforgettable shows, the Olympia is my second pick.
http://www.olympiademontreal.com/en/olympia/

1. Metropolis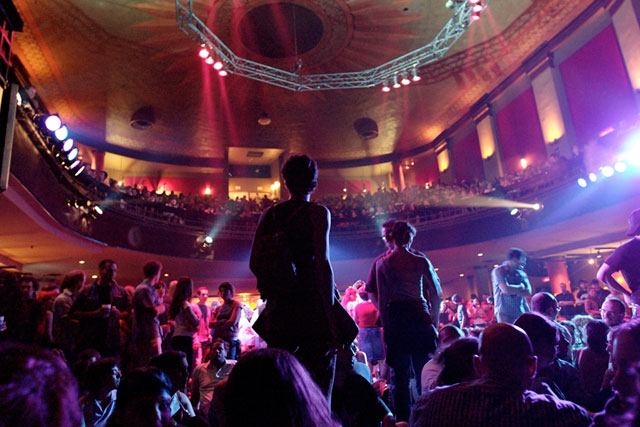 If you're a Montrealer, you've been waiting for this one. It's a commonly used name on the island, made all the more popular by achieving the 9th spot on Pollstar Magazine's list of Top 100 Worldwide Club Venues in 2011, as the highest selling club in Canada. Known for hosting mostly rock bands, Metropolis is where the majority of concertgoers end up when their favorite groups come to town.

But why is this venue so popular? Like many of Montreal's music venues, Metropolis underwent a significant transformation since its construction in 1884. It started out as an indoor skating rink and endured countless renovations and reconstructions, serving as a cinema and theatre until in 1997 it became the live performance venue it is today (metropolismontreal.ca). Ever since, it has drawn consistently large crowds and hosted some of Montreal's most memorable concerts.

Metropolis can accept up to 2300 people, making it large enough for any major act, but without causing the sense of detachment from the artist that can be experienced in mega venues like the Bell Center. Sound quality is also infinitely better and makes for a complete and enjoyable overall experience.

Its layout is similar to that of Club Soda, albeit quite a bit larger. Its upper balcony features television screens that display live shots of performances as they go, a nice feature, but you should be able to see the stage perfectly well from any position.

Some of the best shows I've seen have taken place at Metropolis (Pixies, Them Crooked Vultures and Silversun pickups to name just a few) and I am among many Montrealers who have succumbed to its charms. For its ability to take all the strengths from the other venues on this list and very few of the weaknesses that go along with them, Metropolis is undoubtedly The best spot to watch an indoor rock show in Montreal, and it gets first place.
http://www.montrealmetropolis.ca/metropolis/default-en.aspx