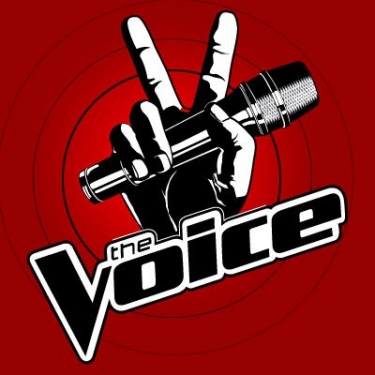 The Voice is one of the many reality television shows that have followed in the footsteps of others, like American Idol and X-Factor. This show, however, prides itself on its distinct judging format. Unlike other shows, The Voice is based solely on a person's talent as opposed to their look. One of the more controversial issues most singing shows have is that they are supposed to be judging individuals on their voice alone, but, instead, find themselves judging based on star quality. This has been an issue for most, seeing as many people getting sent home were amazing singers. This is where the concept of The Voice comes in handy. They have coined their format as "The Blind Audition". Knowing that it is almost impossible to not judge someone based on look, they have come up with the brilliant idea to have four judges facing away from the talents as they audition. This allows the judges to select contestants based on voice alone. If a judge likes the voice, they press a button which spins their chair around to see what the contestant looks like. At this point, the contestant knows that they have been chosen to be on the show and as a part of the team of the judge who turned his or her chair. If two or more judges turn around, however, the contestant then gets the opportunity to choose which judge's team they wish to be a part of.
Once all the judges have finalized their teams, the contestants move on to a "Battle Phase". This phase consists of each judge pairing off their own teams into groups of two. After that, each group of two gets assigned a song. They must then practice together and sing it in front of The Voice audience and all the judges. Once, their performance is over, one gets eliminated on the spot, by their own mentor/judge - thus reducing each judge's team by half.
The "Final Phase" consists of the contestant's competing against each other in a live broadcast. At the end of each live broadcast, a voting poll is then opened for people to either call and vote for their favourite contestants or submit their votes online. The public gets the right to vote, up until the top four, where at this point they share the vote 50/50 with the judges, to ensure that one contestant from each judge's group passes on to the next round of the competition. After this point, the public re-gains full control of the voting process, until the winner is announced. The winner of The Voice gets $100,000 in cash as well as a recording contract with Universal Republic.
The concept of the show is great and it is very distinct from other talent shows that are currently on air. Like other talent shows, they have expanded and have brought their show to Quebec - "La Voix". Using the same format as the American The Voice, the French based show has four judges who are recognizable in the francophone music industry - Marie-Mai, Marc Dupre, Ariane Moffatt and Jean-Pierre Ferland. However, what most people might not know is that you have to audition for the "Blind Audition". Just like American Idols famous audition round, where thousands of people wait outside in line for an opportunity to see their dreams come true, The Voice runs a similar Audition for their show - but we don't get the opportunity to see it on T.V.
I was extremely curious to know who goes to these auditions, why they go and how it feels to be a part of the process. This next interview, should give us a behind the scenes look and feel of these un-aired auditions.
Q: What's your name? 
A: My name is Amelie Cloutier.

Q: How old are you? 
A: I am 18 years old.

Q: Is singing a fun pastime for you or a serious career path?
A: For now it is just for fun, but I would certainly love to make a career out of it, in the future. I'd love to take singing lessons and gain experience before doing that, though. But it is definitely my dream!

Q: How long have you been singing for?
A: I've been singing ever since I could talk - to the extent that it became annoying to my family. I sang ALL the time!
Q: Were you raised in a musical household? (If so, do you have any childhood memories or stories to share?) 
A: Yes. I have a few stories. The artistic side of my family is all on my mother's side. My mom's family would gather the entire family on weekends and they would all bring their musical instruments and sing songs and party all night. My family loves to sing. We have a special living room that we keep to sing along with each other and have a karaoke system in the basement. We love having karaoke nights. There is not one day where me and my mother don't sing . 

Q: Who were your musical inspirations growing up? 
A: As a child, I loved Britney spears, but my inspiration, right now, would be Adele - she's such a great person and is so talented. 


Q: If you had to categorize yourself, what genre would your voice fit into?
A: I have a voice to sing country, R&B, blues and jazz. I have a certain Soul in my voice.

Q: Let's talk about the auditions ... 
Where were they held? 

A: In Montreal, in a hotel. The line up went all the way outside. It was crazy.

Q: How many people would you say showed up for the audition? 
A: My audition number was somewhere in the 2000's and it was only the second day, so a lot of people showed up.
Q: What made you want to audition for the show?
A: I thought the experience would be fun. My mom spoke to me about it and I didn't hesitate. I knew I wanted to go.
Q: Is this the first time you've ever done something like this?
A: Yes it was, but I loved it.
Q: Take me through your journey ... How many steps did you have to go through before auditioning in front of the judges? 
A: Well, we arrived at the auditions at 9am and only ended up leaving at 8pm. There were so many people. When we first got to the line, we started talking with other people who were auditioning. We waited approximately 2hours outside. Once we got in, we waited another hour before getting to a table where there they hand you an Ipad so you can fill out all your personal information; information like: your age/song/ info about you and if you ever took singing lessons. At the table they told us that we couldn't pass the audition that day, because there were too many people a head of us. My mother and I, were then lead into another room to fill out another information form, but this time, it was for a call back sometime, later on, in the next week. While I was waiting to give in the call back information, a woman came to me, and three girls around me, to say spots opened up and we could audition that day, if we wanted to. I said yes, so they took my picture and gave me my number.
Q: What happened next?
A: Well, by then it was maybe 2pm. So, my mother and I left to go eat at a nearby restaurant. We came back for 5pm and still had to wait another 2 hours and a half. As we waited, we sang with other singers, in the audition room. Some had their guitars and everyone would sing together; it was simply amazing.
Q: What happens when your number is called and you are up to audition? 
A: When they called our numbers, we were sent to wait in a hallway where there a person would come to explain to us how the process would happen and what we were supposed to do. We were going to wait quietly outside until it was our turn. They asked us whether we had a cd or an instrument to sing a long to. Then we took the elevator to level 5, where there we needed to wait in another room, but this time with only 15 chairs. Whenever one got up to audition, we were informed to switch chairs. The door was right in front of us and we could here the people singing inside. They were so good.
Q: Was that stressful?
A: Yes. That's actually when the stress kicked in. The closer you get to the door, the more stressed you get. Then, once it is your turn, you go in to the audition room. It's dark and you have to stand on the X, so that the cameras are on you. There was only one spotlight, in the room. It was so dark you could barely see the judge's faces. You tell them your name and age and what you're going to sing then the music comes on. I had time to sing my first verse, bridge and chorus of Set Fire to The Rain, by Adele. The judges were watching me on a prompter to see if I looked good on screen. Once I was done singing, I was led back into the waiting room; all that for just 1 minute of singing. Then you go home like nothing happened. 

Q: Were the actual 4 judges there or were they random, unknown people?
A: They were well known French artists, but they were not the actual 4 judges. I forget their names, but I knew Stephan Laporte was one of them.

Q: Were the judges welcoming and talkative or very straightforward and not wasting any time? 
A: Straightforward but respectful. They weren't arrogant and they didn't look like they were fed up at all. 

Q: What was your reaction from the judges during your audition and after? 

A: I looked at Stephan while I was singing, which was kind of funny, but he nodded and smiled while I sang and spoke to the other judges - that was nerve racking because I didn't know what they were saying or what it meant that they were talking. After he smiled and said thank you Amelie and that was it.
Q: So no feedback?
A: No. None. They didn't have time for that.
Q: What is the time frame that you hear back from them, if you make the show?

A: The audition was in September and if they didn't call you before November 20th, you weren't chosen.

Q: After your experience, was it everything you envisioned it to be? 
A: Yes it was. It was actually even better than I thought.

Q: What would you have changed if you could go back and do it again?
A: Well, I would love to get feedback, but, next time, I wouldn't take an Adele song because nothing can compare to Adele.
Q: Thank you so much for allowing me to interview you.
A: It was no problem at all.