Rarely will a murderer be described as a "pretty nice guy", but for Professor Danis, seeing the lighter side of things is simply part of the job. Marcel Danis is a multi-talented professor, who teaches in Political Science department at Concordia University. Danis walks into classroom as the clock strikes the hour. He delicately places his papers down, opens his folder and pitches his lecture. The students stare, spellbound; whether it is the Hell's Angels or the Mafia; the student who sold marijuana and called him from the police station; the President of Bangladesh (a client of his) who was on trial for manslaughter; or even his most recent experience at the golf club, the class knows that the next three hours will be absolutely riveting.

Allow me to introduce Marcel Danis, the man of the law, and a most important player in the realm of politics, law, education and as follows life.
Over the course of his life, Danis has held several esteemed positions at Concordia. Amongst them are: the Vice-Dean, administrative affairs (1995-1996); VP external relations and secretary general (2005-2008); and, most recently was the Counsel to the Senior Administration (2008-2011). Danis joined the Concordia University Faculty in 1968. However, he took leave from 1984 to 1993, a time during which he was a Member of the Canadian Parliament. The Montreal professor served as Progressive Conservative Member of Parliament representing Verchères region in Quebec. While in Parliament, he was named Deputy Speaker of the House of Commons, before being named to Brian Mulroney's Cabinet in 1990. Soon after, Danis was appointed Minister of Fitness in Sport, which comes to little surprise as his best anecdotes habitually begin with him recalling how "[he] was playing a round of golf in Florida when [he] was called by the head of the police office, because [insert ludicrous and exhilarating in case here]". In tandem with this, he was the Deputy House Leader for the Progressive Conservative party. In 1991, Danis was named Minister of Labour, a position he would hold until 1993, at which point he lefts politics, and luckily for his students, returned to Concordia
It is impossible to doubt his teaching skills. Marcel has studied at four prestigious universities. He obtained a degree in Civil Law from l'Université de Montréal in 1971. He then earned a BA in Political Science from Loyola College (under Jesuit apprenticeship which is now called Concordia University) and a Master of Arts in Political Science from Fordham University. He also studied Political Science and Constitutional Law at Université de Paris. Early on in his career he worked on political campaigns with the likes of renowned players in the political world such as the Charles de Gaulle and John Lindsay.
Many of Danis' most beguiling stories are rooted by the fact that he is a man of the law. Marcel Danis is a practicing criminal lawyer in Quebec. He has represented the often misrepresented. These were allegedly accused from miscellaneous backgrounds including: citizens of stature such as the former Montreal Interim Mayor Michael Applebaum, to the most notorious of criminals (i.e. members of the Hell's Angels). Though he has many loves, it is clear that his heart is set on defending the undefended both in court, and of course, through teaching.
"In other laws, you sit in your office, you look at papers and you drink tea. What I like about criminal law is the interaction that I have in court, particularly with juries...[this is] in the same way that I like the interaction with students".
Passionately revived are stories of murder, violence, drunk driving, political corruption and other imaginable fraudulent feats. His audience is thrown into the scene of the "alleged" crime. One of his favorite stories is that of a bank robbery gone wrong in which Danis was the only member who could convince the armed robbers to release hostages. The defense lawyer revealed that this was one of his most frightening experiences and it was not because he ever felt that that his clients (who had infiltrated a bank and held people at gunpoint) were going to shoot him. No, more bothersome was the fear that it would be the police that would open fire. Still, Danis' biggest dilemma in all of this was that he forgot to call his wife who received the news through the live feed: "she was not very happy with me" Danis whispered shaking his head, "it was not good".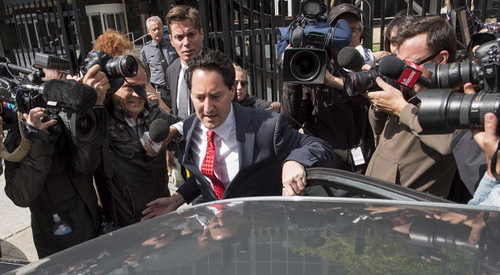 Though Danis believes in the system, he does not shy away from illustrating the unwritten codes of conduct and discrepancies that do undeniably slither in. Danis almost always finds a way to introduce these considerably mendacious inaccuracies with jocular panache. He once explained why a Hell's Angels member was not granted earlier parole. Somewhat irritated he recalled, "...what he did, that bloody guy, is that he bought filet mignons for all of his buddies in jail...if he didn't do that, for sure, he would be have been brought down to a lesser sentence".
Marcel Danis' has had a most recent dedications is to fight corruption. He is a favorite, amongst the media outlets, who commonly look for spokespersons whom understand the complications tied to corruption. This is understandable when considering the amount of work that Danis has contributed to stopping corruption in Montreal. For instance, he accompanied the head of the Quebec's Permanent Anti-Corruption Unit, UPAC, to New York, where they discovered a module plan for the creation of specialized crime fighting unit. What is funny is that he is the defense attorney for the ex- mayor of Montreal, Michael Applebaum who was accused on several counts of bribery, fraud conspiracy, breach of trust, and corruption in municipal affairs. Yet, the most effective way that Danis duels corruption is through communication and education, which he contentedly provides to anyone who pursues it. It goes without saying that Danis is not short of being a guru when it come to understanding the complexities of political corruption. If you would like to know what the latest gossip is in Montreal's criminal underbelly, then Danis is your man.
When all is said and done, the professor lowers his tone, without losing his spellbinding allocution. It is difficult for professors to imprint the words of article 21.1(a) of the Criminal Code of Canada into the minds of brain-fried university students after a meager class. Danis does so, and most importantly, he does so with style. Initially, it is shocking to see such a soft-spoken man casually discuss what happened at the jailhouse earlier that day. Fascinatingly, despite spending so much time working with offenders, he always manages to maintain a positive attitude. When asked how he did he could do this Danis smiled and instinctually gave his two life-lessons for any defense attorney; "one, never make promises because you never know if you'll be able to keep them...two, save your money, if not," he continued coolly, "you may run into trouble."
Intrigued? It is only to be expected! Marcel Danis runs his classrooms like a courtroom leaving out no laughs, cries, gasps, drama, or reflection. This true man of the Law timelessly edifies an entertaining and educational class: a mark of a truly great lecturer.