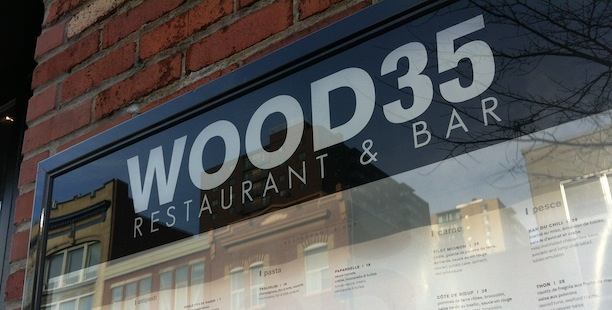 St. Laurent and Milton, a corner just north of Sherbrooke has recently had the sidewalk redone after constant high heels and steel-toed boots traffic have left their mark. Over the years the corner location has been trampled under foot by many interior designers, carpenters, chefs, front door bouncers, electricians, DJ's and micro skirt wearing blondes give or take a few brunettes. Mediterraneo spawned Med Grill and now the latest restaurant owned by Montreal Gourmet, Wood35, opened its doors last June.

With a Living Social voucher in hand for a three-course dinner for two, my dining partner and I headed out on a cool Tuesday evening. We had a feeling something was up when the latest version of "front-door bouncer" unclipped the maroon velvet rope and greeted us with cigarette smoke and a blank stare, probably wishing he were the DJ on a "getting colder by the puff" December night.
The red-haired hostess blended perfectly into the "red everything" décor. I had a feeling that as the night went on it would get even redder. Besides what seemed to be a couple of office Christmas parties, the restaurant was empty and the thumping music was on autopilot.
The Living Social menu had a limited choice so we decided to spring for meatballs as an entree, which were recommended by Yelp and Urbanspoon food critics. They were right on; they were absolutely delicious with a "as good as it gets" red sauce, sprinkled with eggplant caviar and covered with ricotta cheese. We could have had three servings and it would have been worth the displacement all on their own. Chef Giancarlo Martino must have watched his mom attentively on Sunday mornings because as good as the meatballs were the plate of gnocchi that followed was just as good. Not sticky or munched up in a dough ball, with the meatballs, they made a perfect pair. Unfortunately, the pictures I took don't do the dishes justice. The lights were too low and too red.
The crème brûlée that followed was a bit of a disappointment not showing anything new and tasting, as crème brûlée should taste, nothing more and nothing less. This didn't leave us with a bad taste on the evening but the price of the tasteless coffee certainly did.
Service wise, we had no complaint except maybe they should have the waitress take some weight training classes after having a hell of a time trying to open the wine bottle, which I might add was our third choice on an elaborate "just for show" list. The blue plaid shirt busboys running around like a broken football play were maybe a little too fast and obsequious standing and waiting too close to our table.
As we got ready to leave the DJ made his way to the booth and the lights got lower as the restaurant was now almost full. The red-haired hostess was too busy to get our coats, which gave us ample time to be in the maître D 's way and the regular patrons. We certainly would have stayed to watch the parade of "too big for life" posers and "not short enough" skirts but after all it was a Tuesday night in December sur le Main de St. Laurent.
Chow for now. Antonio B
Price: $20 to $45 (alcohol not include)
Cuisine: Italian, Grill, and Fusion
Metro: St. Laurent, 24 Bus
Wood35
350 blvd. St Laurent
Montreal, QC
H2X 2V1
www.wood35.ca