And Then There Were Bagels
Morgan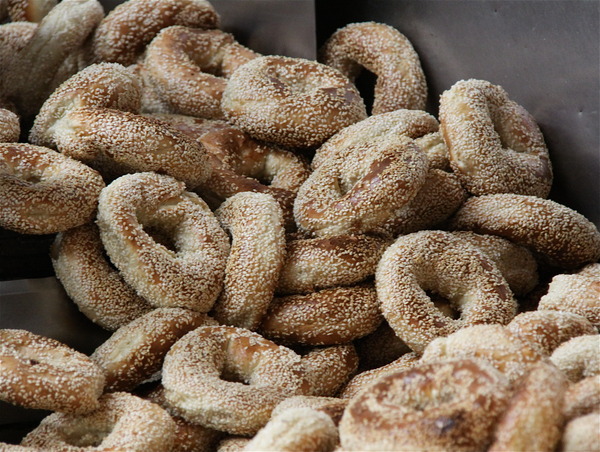 Joan Nathan, self-proclaimed bagel enthusiast, claims bagels and bagel-like rolls have been around for centuries. Her article, "A Short History of the Bagel," makes reference to different localized varieties from around the world: the taralli from Puglia, Italy; the buccellatum from Rome; and the girde from China, even Egyptian hieroglyphics from the Louvre depict a bagelesque treat in ancient times.


Contemporary North American bagels are most alike of the traditional variety historically from Europe. The origin of the bagel has a rich and romantic urban legend surrounding its true origin.
"As the story goes, 17th-century Poland was the breadbasket of Europe, and King Jan Sobieski was the first king not to [enforce] the decree of 1496 [that limited] the production of white bread and obwarzanek (bagel-like rolls whose name derives from a word meaning "to parboil") to the Krakow bakers guild. This meant that Jews could finally bake bread within the confines of the city walls. Furthermore, when Sobieski saved Austria from the Turkish invaders, a baker made a roll in the shape of the king's stirrup and called it a beugel (the Austrian word for stirrup). Whatever its origin [may be], the story of the bagel being created in honor of Jan Sobieski and his victory in Vienna has endured." (Lee)
North American bagels are usually divided into two categories: New York-style, and Montreal-style. Both versions have similar Polish roots and are considered typical Jewish cuisine, though they differ quite substantially. (Lee)
Major Variations:
Montreal
Montreal's first bagel bakery opened up in 1919 by Isadore Shlafman near Saint-Laurent Boulevard. Then in 1949 they decided to relocate to Fairmount Street, where the bakery will forever be known as "The Original Fairmount Bagel Bakery". ("History of Bagels)
In 1957 Myer Lewkowicz opened up St-Viateur Bagel shop, Fairmount's main competitor. (St-Viateur) While there are many other bakeries that produce Montreal-style bagels these are the two most well known and respected around the world.
Both bakeries use a traditional European recipe that is considered more true to the original recipe compared with the New York-style recipe. A few other distinctions about Montreal-style bagels are they do not contain salt, contain eggs, boiled in water containing honey, and then baked in a wood-burning stove. (Hurt) These differences make the Montreal bagels sweeter, smaller, crispier, and denser. (Lee)
New York
New York bagels differ from Montreal bagels in size, structure and taste. Where Montreal bagels are small, New York ones are much larger. "A comparison done in 2000 found that H&H bagels, one of the most popular and largest producers of New York-style bagels in New York, were about twice the weight of a St-Viateur bagel." (Lee) The city's banning of wood burning ovens forces all the New York treats to be baked in conventional ovens allowing uniform baking without altering the dough's flavour.
Since they are created with salt and without the added sugar of the Montreal-style, some people think that they are better suited for savory purposes, like making a sandwich.
Today
Bagels today are more popular than ever before. They have survived centuries and will continue to do so into the future. Whether enjoyed toasted for breakfast, or a having a sandwich on one, people will always love both Montreal and New York-style bagels.
Works Cited:
"History of Bagels." History of the Bagel. Fairmount Bagel Bakery Inc. Web. 17 Oct. 2010. <http://www.fairmountbagel.com/eng/index.htm>
Hurt, Jeannette. "Grazing Montreal." SecondAct.com. SecondAct. Web. 20 Oct. 2010. < http://www.secondact.com/2010/10/grazing-montreal/>
Lee, Jennifer. "Montreal's Bagels Square Off Against New York's." City Room. The New York Times. 1 Dec. 2009. Web. 16 Oct. 2010. <http://cityroom.blogs.nytimes.com/2009/12/01/montreals-bagels-square-off-against-new-yorks/?pagemode=print>
Nathan, Joan. "A Short History of the Bagel." Slate.com. Slate. 12 Nov. 2008. Web. 17 Oct. 2010. <http://www.slate.com/toolbar.aspx?action=print&id=2204140>
"About Us." StViateurBagel.com. St-Viateur Bagel Montreal. Web. 16 Oct. 2010<http://www.stviateurbagel.com/content/?id=53>