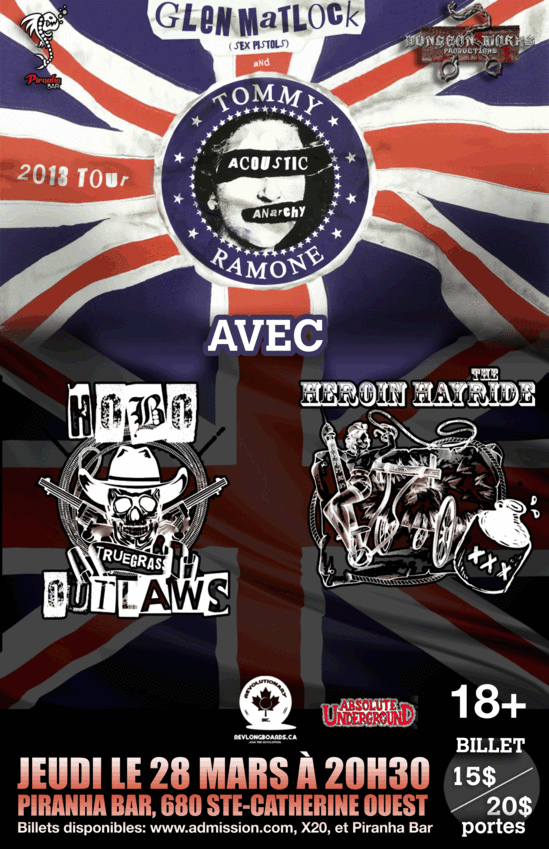 Punk legends Glen Matlock of the Sex Pistols and Tommy Ramone of The Ramones will be performing in Montreal on March 28th at Piranha Bar (680 Ste-Catherine Ouest) with their touring show 'Acoustic Anarchy', playing classics for beloved fans along with new solo material.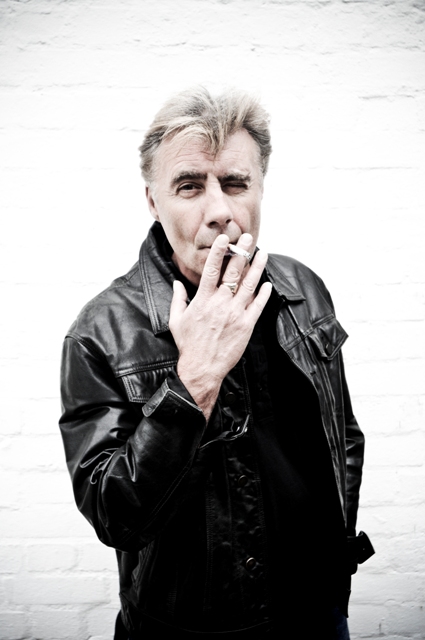 Video - Acoustic Snippets - http://youtu.be/PgZloW0ndtY 
EPK - Glen Matlock - http://offthemenuentertainment.com/wordpress/?p=1261
About: 
Glen Matlock is one of the most respected, if underrated British musicians. In a career that has spanned over thirty years, Glen has made indelible contributions to music as the original bass player with The Sex Pistols, formed the underrated Rich Kids, worked with a variety of artists ranging from Iggy Pop, fellow original School of '76 Brit Punk Rockers The Damned, through to neo-rockabilly singer Robert Gordon, whilst pursuing his own musically distinctive direction where melodic and inventive rock music thrives. To cap it all, 2010 sees Glen release a brand new album - arguably the finest to bear his name - in the shape of Born Running, as well as taking the coveted bass playing role in the reformed Faces.
Glen Matlock was one born on August 27th 1956, in Kensal Green, North West London. Growing up in London through the 1960s and early 70s, Matlock fell under the musical influence of the likes of The Kinks, The Who, The Faces andDavid Bowie. In 1974, whilst employed as an assistant in the King's Road, Chelsea clothing emporium Let It Rock(owned by Malcolm McLaren and his then-wife Vivienne Westwood) joined up with guitarist Steve Jones and drummer Paul Cook (alongside guitarist Wally Nightingale) in a combo that would become The Sex Pistols. The band line-up was completed by the recruitment of John Lydon (soon to become Johnny Rotten) as their vocalist. The Sex Pistols line-up eventually settled around Rotten, Jones and Cook, with Matlock playing bass and singing backing vocals. However, Matlock made the most crucial musical contributions to the Pistols, his innate grasp of melody and song structure essential to knocking the band song ideas into a workable shape.
After Matlock's departure from The Sex Pistols, he hooked up with old pal, guitarist Steve New, alongside drummer Rusty Egan and guitarist / singer-songwriter Midge Ure, formerly of Scottish pop band Slik, to form The Rich Kids, who signed to EMI and were quickly ushered into a studio to cut the album Ghosts of Princes In Towers with one of Matlock's heroes, Spiders From Mars guitarist Mick Ronson. The Rich Kids failed to live up to their promise, however and after they split, Matlock worked with Iggy Pop on his Soldier album and subsequent tour, and then formed The Spectres with former Tom Robinson Band guitarist Danny Kustow.
Matlock's autobiography, I Was A Teenage Sex Pistol, was published to great critical acclaim in 1990, and updated and reprinted in 1996 with insights and updates following the reformed Sex Pistols 'Filthy Lucre' tour, which revealed that Matlock was also a fine raconteur and witty writer.
Despite John Lydon's talent for quotable sound bites, it is actually Glen Matlock who is the most articulate and thoughtful of the Sex Pistols. When the Pistols former manager Malcolm McLaren died in April 2010, it was Matlock who provided the world's press and media with their main point of contact to the Sex Pistols, and provided a distinct, considered overview of Malcolm McLaren's contribution to contemporary culture and his legacy.
In April, 2010, Matlock toured Australia with US rockabilly singer Robert Gordon, along with Slim Jim Phantom of The Stray Cats and guitarist Chris Spedding. Spedding produced some demo recordings for The Sex Pistols in 1976, one of the few old school musicians who acknowledged the worth of the band, and Matlock returned that favour three and a half decades later!
In the spring of 2010, it was announced that three members of The Faces - Ronnie Wood, Ian McLagan and Kenney Jones - were to reform, with Mick Hucknall on vocals, and with Glen taking the coveted role as Ronnie Lane'sreplacement on bass, a huge accolade and confirmation of Glen's high standing amongst his musical peers, and a massive personal achievement for a lifelong fan of the band.
Glen's latest album, Born Running, offers up twelve more punchy and direct examples of Matlock's innate ability to craft timeless, melodic rock songs. It has an added poignancy insofar as it features the last recordings of guitarist Steve New,one of Matlock's oldest friends and fellow founder-member of The Rich Kids, who died in 2010. Also in the band's line up is drummer Javier Weyler, the current drumming incumbent with The Stereophonics, as well as guitarist James Stevenson, who, like Matlock, is a musical survivor from the original School of '76 British Punk Rock. The album was produced by Jim Lowe, who has produced numerous hugely successful albums for The Stereophonics. Born Running is the latest salvo from a musician and songwriter who is never satisfied with resting on his considerable musical achievements; there is much more to come from this hugely gifted individual.
Tommy Ramone - I Wanna Be Your Boyfriend (Live) - http://youtu.be/R0VOiNxC2Ao
EPK - Tommy Ramone - http://offthemenuentertainment.com/wordpress/?p=1803
About: Tommy Ramone began his musical career as Tom Erdelyi an engineer at New York's Record Plant recording studios. While there he worked with artists Jimi Hendrix, John McLaughlin and Herbie Hancock.
Several years later he, along with the great Johnny, Joey and Dee Dee Ramone, formed the rock group Ramones and participated in the birth of New Wave, Punk Rock, and Alternative music. As manager, producer and drummer for the band, Tommy Ramone helped create the sound, style and ideology for what was to become modern rock.
As an independent record producer Ramone has worked on recordings that include the single, Love Goes to A Building On Fire by TALKING HEADS, and the albums, Neurotica by REDD KROSS, Too Tough To Die by the RAMONES, and Tim by THE REPLACEMENTS, the later voted one of the best albums of the year by the writers of Rolling Stone, Record, The Village Voice, and The LA Times.
Presently Tommy Ramone has an indie acoustic duo with partner Claudia Tienan called UNCLE MONK, in which he sings and plays mandolin and banjo. They are currently recording their second album. He is also working as a solo performer.
Show Details:
Les Productions Dungeon Works et Piranha Bar présentent:
https://www.facebook.com/events/516050498445986/ 

ACOUSTIC ANARCHY:

GLEN MATLOCK (Sex Pistols)
http://offthemenuentertainment.com/wordpress/?p=1261

TOMMY RAMONE (Ramones)
http://offthemenuentertainment.com/wordpress/?p=1803

HOBO OUTLAWS
www.facebook.com/pages/Hobo-Outlaws/126300597410834

THE HEROIN HAYRIDE
http://www.facebook.com/TheHeroinHayride?ref=ts&fref=ts


March 28th, 2013
le 28 mars, 2013
8:30PM / 20H30
@ Piranha Bar - 680 Ste-Catherine Ouest
18+

15$ - 20$ portes

billets disponibles:
tickets available at:

http://www.admission.com/event/glen-matlock--tommy-ramone-billets/708107