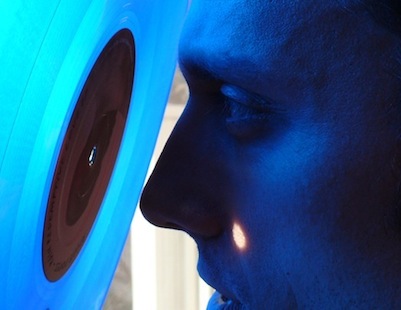 There are few things that speak to the depths of an artist's passion like their music collection. While sitting comfortably in the studio of Montreal DJ and producer Bowly, surrounded on all sides by massive bookshelves nearly overflowing with records, I came to realize just how much this man truly loves music. With a record collection that he's been growing almost non-stop his entire life, it's clear that Bowly's passion for music runs deep. With records that range from the soulful house of Moodyman to the funky rhythms of Geiom, his collection is notably unmarked by the trappings of genre limitations that can be the downfall of so many DJs, and by sheer volume alone makes a strong case for this DJs dedication to his music and his craft.

This range could be the result of Bowly's rich history. He's lived in several French cities, from where he originally hails, as well as a brief stay in Chile and other Canadian cities before finally making Montreal his primary home of the last 10 years. He studied music history and theory, used to play with a metal band in his hometown, was involved with a local magazine, and for a while received classical training, although he's quick to assure me that he doesn't want to project the image of being some kind of classical pianist or anything, instead his training was in singing, but he describes himself as "the kind of guy who did not fit into that whole world." He also came from a very musical family; everyone around him was versed in music, either as a musician or also a teacher.
Moving to Montreal had a huge impact on Bowly's musical journey. "I was really involved with music, but that changed dramatically when I came here, because being in France - being in a small town - there was not much happening in my hometown." After moving to Montreal by sheer chance, driven by a desire to experience something different than the environment in France, Bowly met a community of likeminded people, including many people he's still involved with today that make up the E.S.L. crew (a group of DJs and promoters in Montreal that were the first to push the UK Funky sound locally), like Skinnybones. In Montreal he's found what he describes as a small scene that's built primarily on the strength of the individuals within it. He doesn't feel the city has one coherent sound, but instead fluctuates and changes with every new new sound a well-known local artist adopts.
That diversity is present in Bowly's own music. As a producer, he makes music that's influenced by a blend of dubstep, grime, UK Funky, garage, electro, techno and house. His fascination with bass heavy genres began when he picked up Burial, Kode9 and Boxcutter's first albums. "I got them all on the same day after reading a review in 2006. I was like, 'Alright, what is this thing they call dubstep?' It's funny, because if you listen to all three they're really not cannons of what dubstep is." His love of techno and house go back further to when he first moved to Montreal, they were the styles that he was first introduced to. These then distinct musical genres were finally brought together when he discovered UK Funky, which he describes as a combination of house and techno with UK sounds. After hearing it, he decided it was the music he wanted to make. However, he says he's never been the type of producer who can finish up with the track he set out to make. His track "Our Groove", a New York garage influenced, bass heavy house track, for example, started out with an attempt to produce a techno track. Because of this, he has a hard time really describing the music he makes. Rather than give it a name, he just wants there to be a line that can be followed that makes something sound like his style.
When he first started attempting to make UK Funky, it was the very beginning of the movement; there were few producers making it, and even fewer from outside the UK. He reached out to his favourite artists through MySpace, and that's how he managed to grab the attention of Geiom, which led to his first release. Geiom liked his productions, and they developed a back and forth conversation; Geiom would send Bowly extensive break downs of his songs, and pointed out areas to work on. Getting such close attention from a well-established producer helped him develop his sound quickly, and in short order Geiom selected two songs he liked, "Idee d'Une Tropique" and "Bleeps" for release on his label, Berkane Sol.
To get a taste of this DJs wide range, you can tune into his weekly radio show on Nasty.fm from 7-9pm (or later) every Saturday night, alongside his other E.S.L. crewmembers.