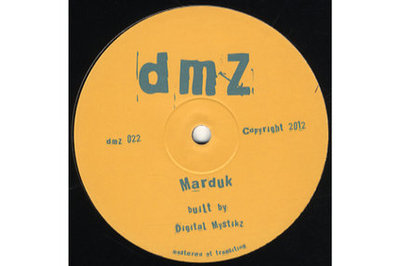 Hidden away beneath the shadow of its commercial, highly visible cousin, the world of underground dubstep is set to deliver an excellent year of releases. The third Deleted Scenes single from originators Distance and Pinch has finally dropped after three years of waiting, Goth-Trad's New Epoch LP is just weeks away and there are many rumored upcoming LPs from seminal artists such as Quest and V.I.V.E.K. I can think of no better way to herald what has the potential to be a monumental year than a brand new, totally unexpected, DMZ release. For their 22nd release, DMZ has chosen to put out a pair of Digital Mystikz (producers Mala and Coki) singles entitled "Marduk" and "Enter Dimensions."

DMZ, of course, is without a doubt dubstep's most highly praised, influential record label. Established by the Digital Mystikz, Loefah and Crazy D back in 2004, they've cemented their place in dubstep history with classic, anthemic releases like "Root / The Goat Stare," and "Haunted / Anti War Dub" (must listen to songs for the budding dubstep enthusiast) and played a huge role in the early development of the dubstep sound. This release comes during what has become a prolific period in DMZ's recent history; it's their third release in as many months, and sixth overall in the last two years. If you were to trace DMZ back another six releases, you'd be all the way back to 2006. Needless to say, every one of their releases is an instant classic, and so I really hope this trend holds out (though I'm not sure how my wallet would feel - shipping fees from the UK really start to add up).

The A side, Coki's "Marduk," comes as fairly typical fare. Over the years his releases have tended towards a restricted pallet of textures and moods, and this track is no different. Not that it isn't an excellent addition to anyone's library-it's sure to get dance floors going-but this is Coki, and if you know him, you know what to expect. The intro does an excellent job of building up a sense of tension and panic that gets released with the huge drop. The song shifts into his signature brand of heavy, choppy, sci-fi psychedelia that really digs into your brain, while the sound bed beneath that could fit right into the score of a horror film. Together, you end up with a truly demented sound.

To be perfectly honest, I've never really been the biggest fan of Coki, but seeing Mala at Igloofest this year and hearing him venture into the sonic realm that's synonymous with Coki productions on a loud system really opened me up to the possibilities there. It's aggressive, yes, and that can feel like it takes away from the deeper, meditative qualities that someone like Mala brings to the table, but when given enough space to breath, it becomes something else entirely. It takes on a heavily hypnotic quality that is equally capable of taking you into your own head as the best productions of his meditatively-inclined counterpart.

Speaking of, onto the B side. For me, Mala's "Enter Dimensions" is where this release really shines. It's little wonder that he's widely recognized as dubstep's most consistently strong and innovative producers. First off, the drop on this tune is huge; after a restrained opening, the bass just explodes out of the gate. I'm only listening to it in headphones and it's suffocating; I can only imagine the strength it hits with on a proper system. It comes in deep, rolls hard, and barely ever lets up throughout the whole song. There are moments where it'll cut out for a split second, but then comes right back. The silence serves as little more than a reminder of just how heavy this track is. The rest of the song remains pretty minimal, like a throw back to the early dubstep productions that DMZ really pioneered; I particularly like the ancient sounding sample that I feel should be from a kung fu movie.

For those who don't know, don't take my description here as fanciful rhetoric. There's a very good reason that proper dubstep tracks are described as "deep" or "heavy": this is physical music, and when you're hit by the first blast of bass - I mean really hit with it - you feel it down to your core; you'd barely think the human body was made to withstand this kind of pressure.

For anyone who considers themselves a fan of the deeper, foundational sounds of dubstep, this is an absolute must have. DMZ retains their throne as the top dog of dubstep record labels, and as long as they keep putting out stuff like this, I can't see that changing.