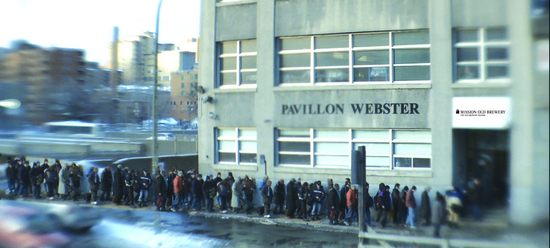 Montreal is known for having one of Canada's harshest and coldest winters, and every year it's unfortunate that those who are homeless must endure the reality of living on the street.
Since its conception, Blankfest Quebec has been raising awareness and clothing (over 2,500 items to date) for Montreal's homeless and shelter the Old Brewery Mission.
This year sees the return of the fifth annual charity event with city's music community coming together once again to help those in need. Blankfest Quebec V will be held on March 9th at Piranha Bar (680 Ste. Catherine W.) with blues rockers Vinyl Hero, society fighters Fist of Freedom, metallers Dissension and the politically charged Forbidden Sin.
In addition to the Blankfest Quebec V, the Heavy Metal Music Association of Canada will be holding a fundraising brunch at Frite Alors (680 Ste. Catherine W.) the morning of March 9th at 11am to raise funds for the Old Brewery Mission along with a speakers panel on the topic of Charity & Music.
Note: H.M.M.A.C. will be accepting donations of rolled pennies at the brunch for those interested in getting rid of them.
Cost for brunch and panel is $20 with $5 to be donated to Old Brewery Mission. 
Speaking Panelist are the following:
Johanne McDonald - Executive Director - Old Brewery Mission
Jon Asher - Blankfest Quebec
Jason Rockman - CHOM 97.7FM
Norm Zimmerman - Steve's Music Store
Ray Howard - Vinyl Hero
Blankfest V 2013 - Event Details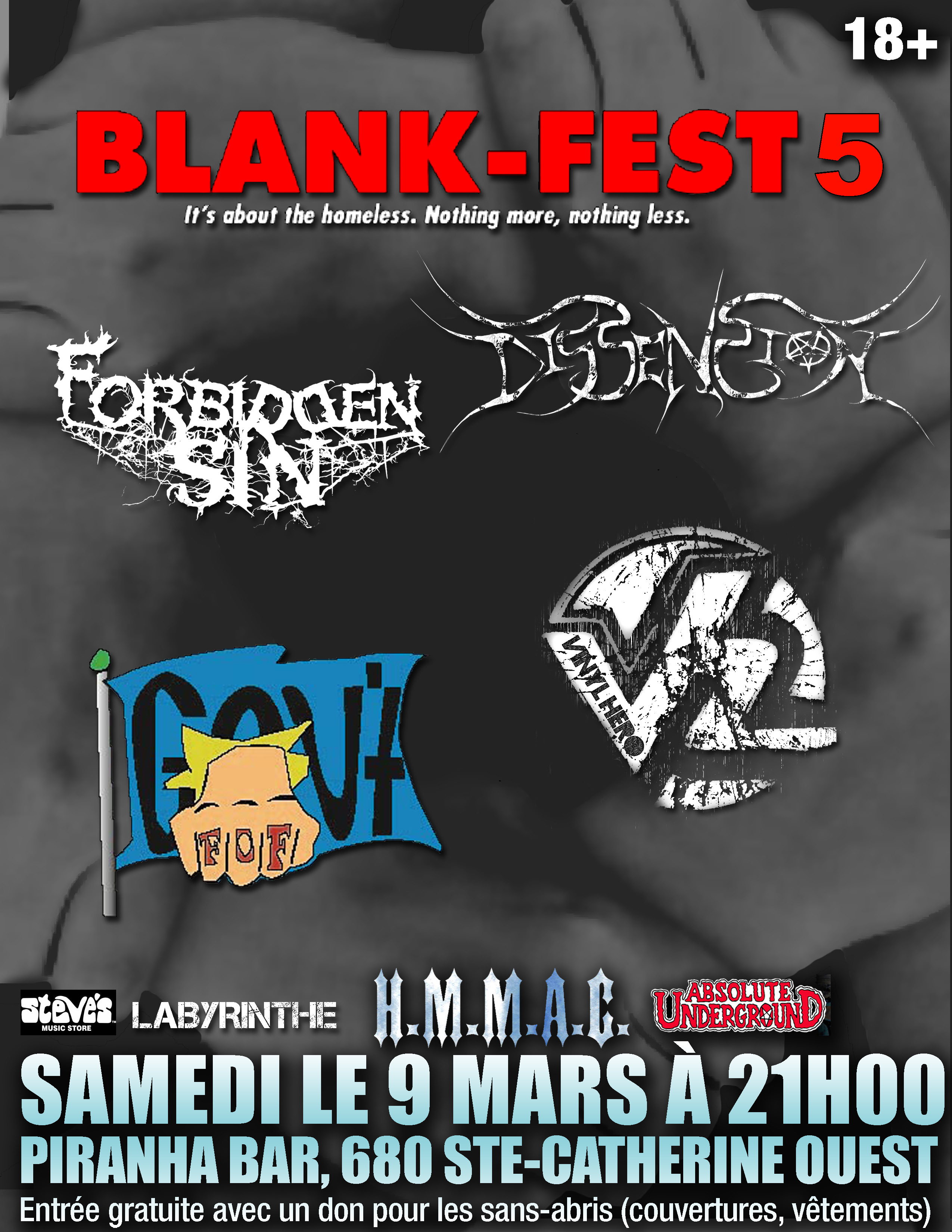 Facebook Event - https://www.facebook.com/events/224310721027493
Facebook Fanpage - Blankfest Quebec - http://www.facebook.com/pages/Blankfest-Quebec/124607864221341 
Old Brewery Mission - www.oldbrewerymission.ca and http://www.facebook.com/pages/Mission-Old-Brewery-page-officielle/168973503131279
Date: Saturday, March 9th, 2013
Time: 8pm
Venue: Frite Alors, 680 Ste-Catherine W.
Cost: Admission is a Blanket or Donation of Winter Clothing
- 30 -
About: The Old Brewery Mission Soothing homelessness. Solving homelessness.
About The Old Brewery Mission
Founded in 1889, The Old Brewery Mission is the largest resource for homeless men in Quebec and for homeless women in Canada. This non-profit organization provides a range of services that respond to the needs of Montreal's homeless people as well as those at risk of becoming so, and endeavours to enable them to take control of their lives and assume their rightful place in the community. It is estimated that there are close to 20,000 homeless people in Montreal.
About: Blankfest Quebec is organized by Jon Asher, in collaboration with the Old Brewery Mission, and was launched after Jon read about his friend, New York City indie rock veteran Kenn Rowell of The Baghdaddios, who founded Blankfest in 1997 and has been organizing the annual blanket fundraiser in New York City for the past 17 years.
In the past, Rowell says, Blankfest NYC has raised more than 6,000 total donations that have been distributed to the homeless in the New York City area and has inspired similar efforts in New Jersey, Manhattan and Nottingham, UK. Among the many distinguished artists who have performed at past international Blank-Fests are: Rothberg (EMI), Buddy Cage (Grateful Dead), Marc Rizzo (Soulfly) and Meg Griffin (Sirius Radio).