Rockie Fresh is coming to Montreal on March 5th at Underworld (1403 Rue Ste-Élisabeth) as part of his Electric Highway Tour in promotion of same titled mixtape released via Maybach Music.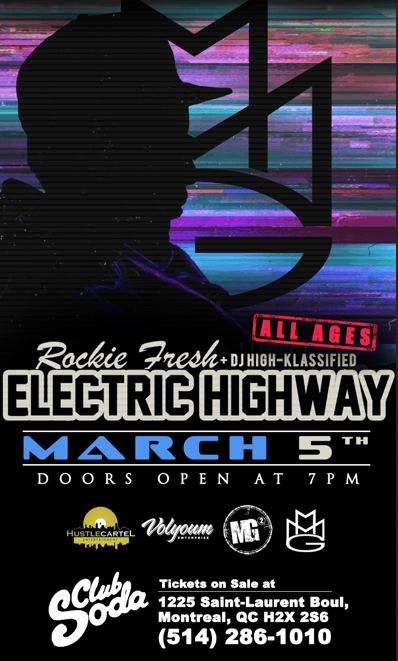 Rockie Fresh, is an American hip hop artist born in Chicago, Illinois signed to Maybach Music Group. He is known for his alternative rock influenced style of hip-hop, and his associations with recording artists Rick Ross, Patrick Stump of Fall Out Boy, and Joel & Benji Madden of Good Charlotte.
In 2009, Rockie began recording his debut mixtape Rockie's Modern Life in a small recording studio Chicago, IL. During the recording process, he met Andrew Koenig and Andrew Gertler, who became his managers and started APG Music Group, LLC. They released Rockie's Modern Life in December 2009, and followed it up with another mixtape, The Otherside in December 2010.
The success of the projects earned Rockie performances with Rick Ross, Twista, Big Sean, and at Bamboozle Festival, where he met Josh Madden, who would later introduce Rockie to his brothers Joel & Benji Madden of Good Charlotte. Rockie's music also grabbed the attention of Fall Out Boy lead-singer Patrick Stump, whom Rockie has cited as a major influence and has since toured with.
Since the release of The Otherside Rockie has been named one of Metromix's "25 Hottest Artists Under 25" and his music has been featured on The CW's nationally syndicated television show Nikita. He was also featured on Good Charlotte's project The Madden Brothers: Before The Fame according to Rolling Stone and Billboard magazines. In 2012, he released his mixtape Driving 88, which led to his signing with Maybach Music Group on July 12.
On January 21, 2013, he released his fifth mixtape 'Electric Highway', his first imprint under Maybach Music.