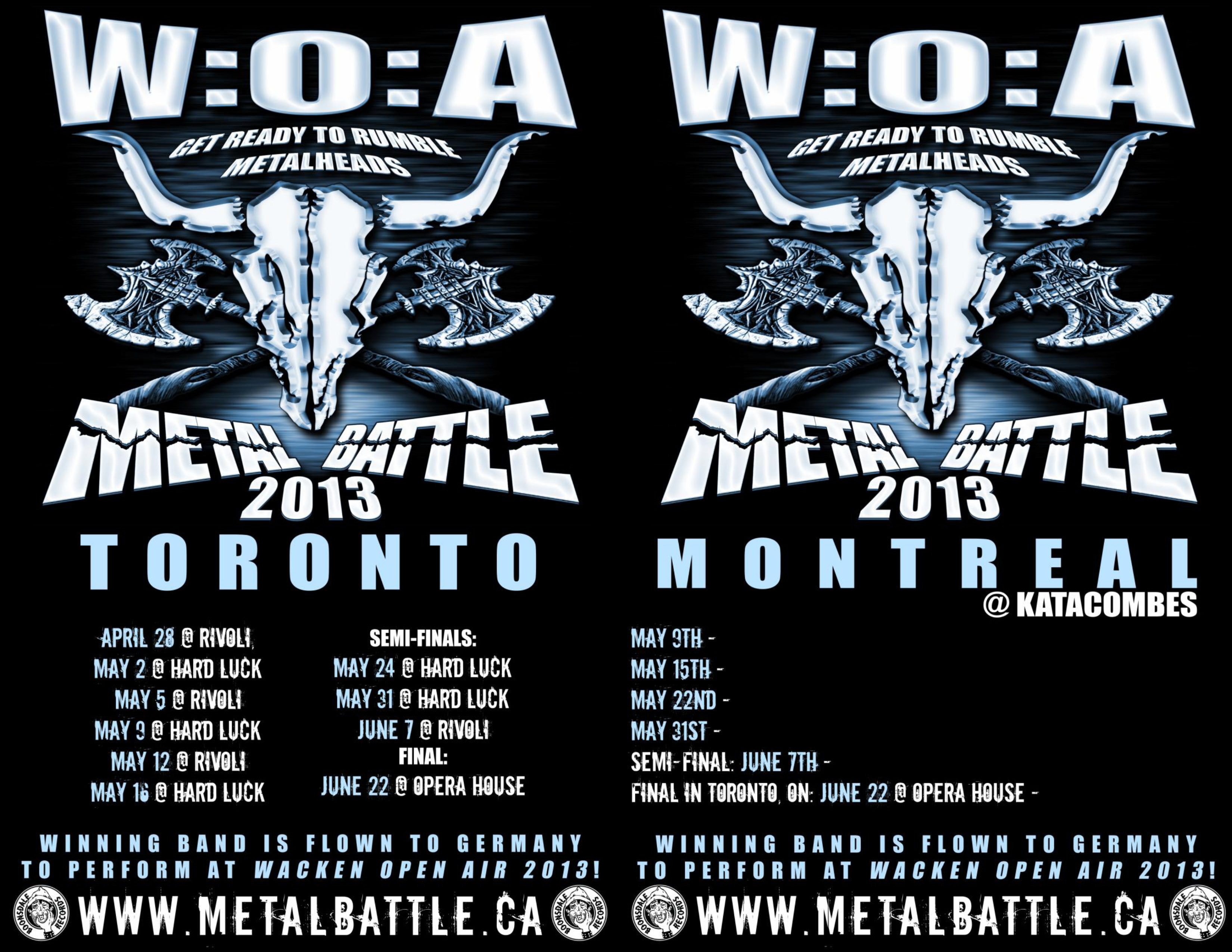 The world's most prestigious metal festival, Wacken Open Air, known for its elite lineup of the globe's best metal bands is bringing the largest metal contest on the planet to Canada. Wacken Metal Battle Canada will be recruiting one independent Canadian band to perform at this year's highly celebrated gathering of metal heads in Wacken, Germany. Searching for the strongest contenders, Metal Battle Canada will showcase Canada's premiere talents for one true champion to represent the nation with highest honor at the Wacken Open Air Festival.
Being held in Toronto, ON and Montreal, QC during the months of May and June, Canadian metal bands from across the country will challenge one another to join a list of Canadian heavyweights such as Voivod, Exciter, Razor, Annihilator, Anvil,  Kataklysm, Cryptopsy, 3 Inches of Bloods, Despised Icon and Danko Jones who have performed at the festival in years past.
The W:O:A Metal Battle was founded in 2004 to encourage future generations of heavy metal and rock, as Wacken Open Air believes in supporting the future of metal music and its musicians. 
Submissions for Metal Battle Canada can be completed via the online application at the following link below and will be open from Feb 18th to deadline on March 10th. (Please remember to select the city in which you would like to potentially compete.)
Metal Battle Canada application link - http://www.metalbattle.ca/apply.html 
Promo Video - Wacken Metal Battle Canada
http://www.youtube.com/watch?v=gQcxqsxchkQ (spread the link)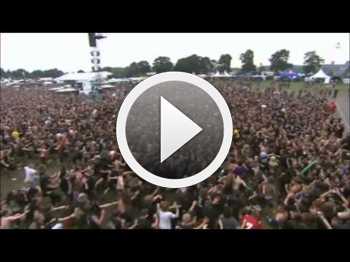 Battling rounds for Metal Battle Canada will be held on the following dates:
TORONTO DATES:
QUALIFYING
April 28 - Rivoli - Toronto, ON
May 2 - Hard Luck - Toronto, ON
May 5 - Rivoli - Toronto, ON
May 9 - Hard Luck - Toronto, ON
May 12 - Rivoli - Toronto, ON
May 16 - Hard Luck - Toronto, ON
SEMI-FINALS
May 24 - Hard Luck - Toronto, ON
May 31 - Hard Luck - Toronto, ON
June 7 - Rivoli - Toronto, ON
MONTREAL DATES:
QUALIFYING
May 9 - Katacombes - Montreal, QC
May 15 - Katacombes - Montreal, QC
May 22 - Katacombes - Montreal, QC
May 31 - Katacombes - Montreal, QC
MONTREAL SEMI-FINALS
June 7 - Katacombes - Montreal, QC*
* 2 MONTREAL BANDS MOVE TO FINALS - June 22 at Opera House, Toronto, ON
FINALS - METAL BATTLE CANADA
June 22 - Opera House, Toronto, ON
RULES
All bands that wish to participate in the Metal Battle must read the following rules and guidelines. Bands who send in an application automatically agree to the rules and terms.
Your band doesn't have a record deal and isn't about to sign to a record label in the near future.

Your band must be able to play a 30 minute set consisting of your own original material.

PA, lighting, and sound engineer will be provided for all bands by Metal Battle Canada.

Backline arrangements TBA.

The bands must bring their own instruments such as guitars, bass, drum breakables, keyboards and effect pedals and may also bring and use their own guitar amps.

To keep the changeover times as short as possible, bands with left handed drummers will play as first or last band. All bands have to follow the directions given by the promoters or stage manager.

Semi playback is not allowed. All bands must play live.

Jury of respected music industry folk will decide the winners each night.
If a band overruns its allotted performance time, then the band-members should be aware of the fact that in this case their sound will be faded out. The running order for the concert will be released a few days before the event takes place.
About Wacken: 
Wacken Open Air (W:O:A) is a summer open air heavy metal music festival. It takes place annually in the small town of Wacken in Schleswig-Holstein, northern Germany. With 80,000 festival visitors, and including personnel a total of roughly 86,000 attendees in 2011,[2] it attracts all kinds of metal music fans, such as fans of black metal, death metal, power metal, thrash metal, gothic metal, folk metal, and even metalcore, nu metal and hard rock from around the world.
The festival was first held in 1990 as a small event for local German bands. By 1998 the event had become the major festival on the European metal calendar and has included over 70 bands from all over Europe, North America and Australia. W:O:A is usually held at the beginning of August and lasts three days, during which the festival-goers camp on several large camping grounds surrounding the actual festival area. The 70 or more bands perform across four separate stages over the course of the event.
Since 2002, the Wacken Firefighters, the local volunteer fire department band, opens the festival.
The 2009 edition set a sales record when it sold out its 70,000  tickets by December 30, 2008, just 200 days prior to the festival. However, the 2012 edition broke this record; when it sold out on November 29th, 2011, 8 months before the opening of the festival with 75,000 tickets sold. The W:O:A 2012 took place with 137 bands, performing on seven stages.
For more info on Metal Battle Canada, please visit these links:
Official Website: http://www.metalbattle.ca 
Facebook: https://www.facebook.com/MetalBattleCanada 
Twitter: @MetalBattleCAN