A Romantic Dinner for Two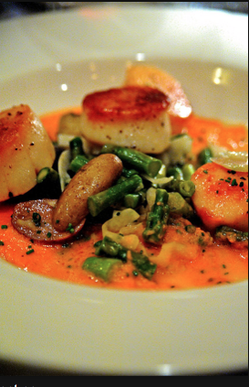 Antipasto Plate
Scallops Mornay

Buttered Asparagus
Toasted Garlic French Slices
Classic Tortoni
White Wine

Coffee
Arrange your favourites from the following:
Rolled slice of Prociutto, Sopressata, Bresaola and Genoa Salami
Wedge of Provolone, Robiola and Boursin cheeses
A variety of olives such as Kalamata, green Manzanilla and Nicoise
Marinated Artichokes, Heart of Palm, Peppers and Tomatoes
Scallops Mornay
½ cup (125 ml) Dessert Wine (Sauterne)
¾ cup (185 ml) Distilled Water
¼ tsp (1.25 ml) Salt
Dash Pepper (white or finely ground black)
¼ tsp (1.25 ml) Dried minced Onions
8 oz (350 ml) Scallops, cut in half if large (± 1½ cup)
½ cup (125 ml) Fresh Mushrooms, sliced
1 tbsp (15 ml) Butter or margarine
1½ tbsp (22.5 ml) Flour
½ cup (125 ml) Milk
¼ cup (65 ml) Grated Swiss Cheese
1½ tbsp (22.5 ml) chopped fresh Parsley
Preheat oven to 375º F (190ºC).
Combine wine, water, salt, pepper and onion in a saucepan.
Simmer for 5 minutes.
Add scallops and mushrooms
Cover and simmer for 5 minutes.
Remove scallops and mushrooms from stock
Put aside while making sauce.
Reduce stock to ± ½ cup (125 ml), approx. 15 minutes.
In another saucepan, melt butter and stir in flour.
Stir in stock and milk; cook and stir until thickened and bubbling.
Add grated cheese; stir until melted.
Adjust salt and pepper if needed.
Remove from heat
Add scallops and mushrooms.
Spoon into 2 prepared (lightly greased) individual baking dishes.
Bake for 15-20 minutes. Garnish with chopped parsley.
Serves 2
308 Calories, 105 Calories from Fat, 11.7g Total Fat, 6.9h Saturated Fat, 70mg Cholesterol, 573mg Sodium, 13.1g Carbohydrates, 4.1g Sugars, 26.0g Protein
Buttered Asparagus
Toasted Garlic Bread
Classic Tortoni
½ cup (125 ml) 35% Cream (whipping not cooking)
¼ cup (65 ml) Sugar
½ tsp (2.5 ml) Vanilla
2 drops Almond Extract
1 large Egg White
2 tbsp (30 ml) Toasted Almonds, finely chopped
2 tbsp (30 ml) Toasted Coconut
½ tsp (2.5 ml) Instant Coffee powder
Whip the cream with vanilla
Extract and 2 tbsp (30 ml) of the sugar.
Beat egg white to soft peaks.
Gradually add the remaining sugar
Beat to stiff peaks.
Mix almonds and coconut together.
Fold egg whites and half the nut mixture into the whipped cream.
Spoon half into a 16 oz (500 ml) ramekin.
Fold coffee powder into the remaining whipped cream mixture.
Spoon into the ramekins.
Sprinkle with the remaining nut mixture.
Cover loosely with plastic wrap.
Freeze at least 4 hours, preferably overnight.
Serves 4 (but really, 2 people scooping out of 1 ramekin . . . ?)
119 Calories, 52 Calories from Fat, 5.8g Total Fat, 3.0g Saturated Fat, 11mg Cholesterol, 27mg Sodium, 15.0g Carbohydrates, 13.0g Sugars, 2.5g Protein
Image source: Flickr.