Cuisine Creole: Accra, Griots & Pikliz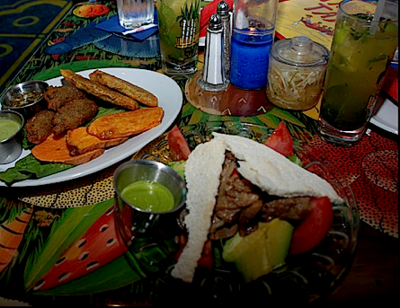 Image source: Flickr
T
he Montreal Haitian population, just shy of 100,000, represents roughly 5% of the Island of Montréal's population.
A significant percentage resides in Montreal North. Montreal North is an oblong municipality located along the Rivière des Prairies in the northeastern part of the island of Montréal, bordered in the east by Rivière des Prairies-Pointe-aux-Trembles, at the southeast corner by Anjou, the south by St. Leonard, the southwest by Villeray-Saint Michel-Parc Extension and the west by Ahuntsic-Cartierville.
Haitian cuisine/recipes include many of the ingredients that we use on a regular basis in Canada, as well as a number of tropical vegetables and/or fruits that can only be found at specialty shops. A chain of grocery stores in the east and north end of the city is inter Marche/4 Frères. With18 locations, they cleverly allow their franchise owners/managers to adapt to their individual community's needs and wants in order to satisfy the tastes and requirements for creating traditional home-cooked meals.
Some of Haitians' favourite meals prepared using not easily found or unusual ingredients or are Hatiian Soup, Accra, Griots and Pikliz:
Haitian Soup (Boillion) is a soup that combines cubed beef with limes, spinach, malanga and other vegetables including bonitas (yams) as well as our well-known sweet potato and more.
Accra, a popular bean fritter, requires Malanga (Eddoe) which is a tropical vegetable, a variety of Colocasia esculenta, related to Taro (Dasheen). It is used for its thickened stems. It has smaller roots than Taro, has an acrid taste and must be cooked with care. Young leaves can also be cooked and eaten but are somewhat acrid as well. Eddoes, developed in China and Japan, was introduced from there to the West Indies and is sometimes called "Chinese eddoes".
(Image source: Flickr)
Griots, fried, glazed pork, is one of Haiti's most popular dishes. This popular dish is invariably served at parties and at family gatherings. Its cubed pork is soaked in a sour orange marinade and then roasted slowly until tender. The tender morsels are then caramelized and mix with a combination of orange and lime juice, or sour orange juice.

Pikliz
, is a combination of spicy, pickled vegetables that every Haitian home has on hand.

Carrots, cabbage, chillies and other vegetables are soaked in vinegar creating a relish similar to what Americans refer to as chow-chow.

This crunchy salad is served as a side dish in Haitian meals.

The flavoured vinegar is frequently used in marinades or to give dishes a spicy-sour punch.
In order to celebrate special occasions and satisfy that sweet-tooth we all give in to on occasion,
Patisserie Le Savoir-Faire on Henri Bourassa East creates the treats many Montreal Haitians are happy to snap up.
When seeking a good restaurant that serves the best good, old-fashioned as well as unique Haitian cuisine hands down, the most recommended is La Fourchette Antillaise. Boasting a superb Creole Chicken this restaurant is a favourite amongst not only Haitians but those from other islands in the Caribbean as well as those Montréalers fortunate enough to have discovered it.